The ultimate learning experience and the best way to explore the mountain. Go one-on-one or make a group family or friends of similar ability.
SEASON PASSHOLDERS SAVE 15% OFF ALL BUBBLE LESSONS
Why wait in the lift lines? Maximize your time on the snow, bubble lessons cut lift lines.
Rent a Snow Pro (ex. Book a 2 hr. lesson, Weekend afternoon, or any Weekday; pricing includes three people in your group. Pre-tax – is under $66.00 per person.
*Excludes Mom/Dad & Me (skiing program)
BEGINNERS GET 25% OFF LESSONS, LIFT TICKETS & RENTALS
Learn to ski or snowboard for the first time with our beginner lessons package. Specifically designed to give first timers a fun, safe, and encouraging experience with our pros.
Discount package applies to first timers new to the sport.
Includes:
- a 2 hour lesson
- Rental equipment for the day
- All lessons don't wait in lift lines
- Beginner day lift ticket (Magic carpet & Plaza chair only)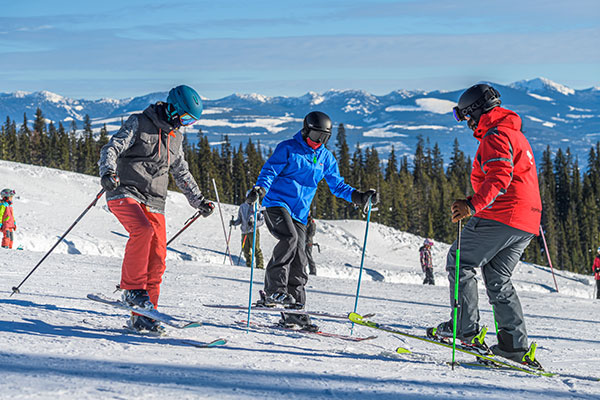 Call or email Ski & Board School for more information 250.491.6101 | skischool@bigwhite.com
2020-21 Lessons Times & Cost
Child (8-12) Lessons

Get your kids started on the right track and book them a ski or snowboard lesson with one of our specialized Kids' Centre Instructors.

In each session, children receive personalized attention from our Kids' Centre Pros and can advance up the ability chart as quickly as possible. Friends can also be added to most options for extra fun.


Child (8-12) Lesson Times & Cost

---

HALF DAY/FULL DAY

Duration
Cost
3 hr - AM
9:00am - 12:00pm
$400
Includes up to 3* participants
3 hr - PM
12:30pm - 3:30pm
$335
Includes up to 3* participants
6 hr - FULL DAY
9:00am start
$675
Includes up to 3* participants
Additional participants in any lesson $69 per person

Prices do not include tax and are subject to change without notice. Lift ticket not included see Tickets for lift ticket rates.
*Maximum of 4 children per group

1 HOUR/2 HOUR

Duration
Cost
1 hr - AM/PM
8:30am - 9:30am |
12:00pm - 1:00pm
$135
1 person private
2 hr - WEEKEND AM
10:00am - 12:00pm
$300
Includes up to 3* participants
2 hr - WEEKEND PM
1:00pm - 3:00pm
$230
Includes up to 3* participants
2 hr - WEEKDAY AM/PM
10:00am - 12:00pm |
1:00pm - 3:00pm
$230
Includes up to 3* participants
Additional participants in any lesson $69 per person, excluding 1-hour lessons.

Prices do not include tax and are subject to change without notice. Lift ticket not included see Tickets for lift ticket rates.
*Maximum of 4 children per group

Cancellation Policy

No refunds due to weather conditions.
Cancellations or rescheduling with more than 24-hour notice will be subject to a $20.00 administrative fee unless due to a medical issue, in which case we will require proof of medical note.
Cancellations or rescheduling within 24-hour notice will be subject to a $40.00 administrative fee unless due to a medical issue, in which case we will require proof of medical note.
Cancellations and rescheduling up to 15 minutes before the lesson start time will be subject to a $100.00 administrative fee
*Please note fees are not including tax, and tax will be added upon payment of fees

Tips for Parents

Before You Arrive

Ensure that they are well rested, have eaten breakfast or lunch, and have recovered from jet lag.
Bring them dressed warmly and ready to ski or snowboard.
Don't worry about tears! Our instructors are caring and trained to help calm the fears of your child.

Weather conditions can change rapidly. Please ensure that your child is equipped with the following:

Neck warmer
Goggles and/or sunglasses depending on the weather
Waterproof & insulated mittens, gloves, jacket and pants
Long underwear and turtleneck
Warm dry socks
Label everything with your child's first and last name

Contact Us

Direct: 250-491-6101

Toll Free: 1-866-491-9040

Child (5-7) Lessons

Get your kids started on the right track and book them a ski or snowboard lesson with one of our specialized Kids' Centre Instructors.

In each session, children receive personalized attention from our Kids' Centre Pros and can advance up the ability chart as quickly as possible. Friends can also be added to most options for extra fun.

Child (5-7) Lesson Times & Cost

---

HALF DAY/FULL DAY

Duration
Cost
3 hr - AM
9:00am - 12:00pm
$400
Includes up to 3* participants
3 hr - PM
12:30pm - 3:30pm
$335
Includes up to 3* participants
Additional participants in any lesson $69 per person

Prices do not include tax and are subject to change without notice. Lift ticket not included see Tickets for lift ticket rates. *Maximum of 4 guests per group.

Eligibility for lessons has changed due to COVID-19 restrictions and protocols, please see the table below.

1 HOUR/2 HOUR

Duration
Cost
1 hr - AM/PM
8:30am - 9:30am |
12:00pm - 1:00pm
$135
1 person private
2 hr - WEEKEND AM
10:00am - 12:00pm
$300
Includes up to 3* participants
2 hr - WEEKEND PM
1:00pm - 3:00pm
$230
Includes up to 3* participants
2 hr - WEEKDAY AM/PM
10:00am - 12:00pm |
1:00pm - 3:00pm
$230
Includes up to 3* participants
Additional participants in any lesson $69 per person, excluding 1-hour lessons.

Prices do not include tax and are subject to change without notice. Lift ticket not included see Tickets for lift ticket rates. *Maximum of 4 guests per group.

Eligibility for lessons has changed due to COVID-19 restrictions and protocols, please see the table below.

ELIGIBILTY

3 hour lesson
Age Restriction
5 to 7
Level
Levels 1 & 2
Participants
2 people
3 hour lesson
Age Restriction
5 to 7
Level
3+ (able to link turns and follow instructor comfortably on Ridge Rocket chairlift)
Participants
Includes up to 3 people, 4th can be added for an additional price
2 hour lesson
Age Restriction
5 to 7
Level
Levels 1 & 2
Participants
2 people
2 hour lesson
Age Restriction
5 to 7
Level
3+ (able to link turns and follow instructor comfortably on Ridge Rocket chairlift)
Participants
Includes up to 3 people, 4th can be added for an additional price

Cancellation Policy

No refunds due to weather conditions.
Cancellations or rescheduling with more than 24-hour notice will be subject to a $20.00 administrative fee unless due to a medical issue, in which case we will require proof of medical note.
Cancellations or rescheduling within 24-hour notice will be subject to a $40.00 administrative fee unless due to a medical issue, in which case we will require proof of medical note.
Cancellations and rescheduling up to 15 minutes before the lesson start time will be subject to a $100.00 administrative fee
*Please note fees are not including tax, and tax will be added upon payment of fees

Tips for Parents

Before You Arrive

Ensure that they are well rested, have eaten breakfast or lunch, and have recovered from jet lag.
Bring them dressed warmly and ready to ski or snowboard.
Don't worry about tears! Our instructors are caring and trained to help calm the fears of your child.

Weather conditions can change rapidly. Please ensure that your child is equipped with the following:

Neck warmer
Goggles and/or sunglasses depending on the weather
Waterproof & insulated mittens, gloves, jacket and pants
Long underwear and turtleneck
Warm dry socks
Label everything with your child's first and last name

Contact Us

Direct: 250-491-6101

Toll Free: 1-866-491-9040